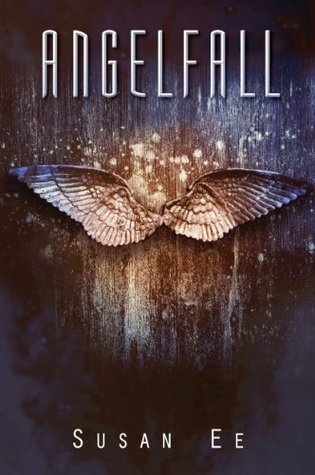 Summary (from goodreads):
It's been six weeks since angels of the apocalypse descended to demolish the modern world. Street gangs rule the day while fear and superstition rule the night. When warrior angels fly away with a helpless little girl, her seventeen-year-old sister Penryn will do anything to get her back.
Anything, including making a deal with an enemy angel.
Raffe is a warrior who lies broken and wingless on the street. After eons of fighting his own battles, he finds himself being rescued from a desperate situation by a half-starved teenage girl.
Traveling through a dark and twisted Northern California, they have only each other to rely on for survival. Together, they journey toward the angels' stronghold in San Francisco where she'll risk everything to rescue her sister and he'll put himself at the mercy of his greatest enemies for the chance to be made whole again.
My Review:
Angelfall is about a girl named Penryn living in a post-apocalyptic world with her mother and wheelchair bound sister. Her dad is out of the picture (I don't know where the heck he is) and Penryn struggles to keep her little family alive. The world is now full of the "angels of the apocalypse" (they have nothing to do with God) and the modern world we know today has shattered.
So when Penryn rescues a wounded angel, I was like, "Girl, what are you doing? Sure he's hot but oh look, there goes your sister!" Penryn's little sister, Paige is carried off by the warrior angels the wounded angel was fighting with. Naturally, Penryn yells and screams at the wounded angel when they fly away with her sister. (That was a little unnecessary. It was your choice to rescue him!)
Anyways, Penryn returns to her senses soon enough and decides to nurse the angel, Raffe, back to health. Of course this was no pure-hearted act, she just wanted him healthy enough to beat the information out of him. Just kidding.
Like I've said before, I'm enchanted with awesome, courageous heroines and Penryn proves herself to be one. She doesn't give up and forces Raffe to help her find her sister. The road is dangerous, full of bloodthirsty angels, gangs and other bad stuff. But Raffe is there to protect her, right? Nope.
This girl's fighting moves are my favorite part of the book. Ms. Ee describes her as a girl of average height yet she can bust out some serious moves. Penryn is also pretty street-smart so many times when she's in a difficult situation, she makes the right decisions. Fighting someone? Don't got a weapon? Use a set of wings to pretend you are an angel. Yeah. Pretty. Awesome.
Raffe is a beautiful man. Or angel. Either way, he's a beautiful specimen. The way Ms. Ee describes him makes me want to drool. He's also courageous like Penryn but in a quiet kind of way. The Silent Hero. Sigh.
Anyway, this book was pretty good. It has action, romance, fighting, desperation and all the little goodies. It's a dark book so you do have scenes with blood spurting. If you're not into that, you should still read it. You can flip past those parts.
All in all, I give this book a four star. There were awesome fight scenes and cute moments between Raffe and Penryn but I sometimes found Penryn a little annoying. The scene where she kicked Raffe for his little buddies (not buddies, they were beating him to a pulp) because her sister got carried off? That was NOT Raffe's fault. He can't help it if you go rushing in, abandoning your sister to save him! There were just these little parts that I didn't find as funny as Ms. Ee wanted to. However, she does redeem herself with some clever decisions and courageous thoughts.
P.S. One thing you should all know about me is that I am a very picky reader. There are some books that when I flip through the first few pages, I sigh and I think, "What is this author doing?" I'm judgmental as f*ck. Sorry.
Anyway, read this book! It's pretty awesome!
Amazon
________________________________________________________________
Susan Ee is a USA Today bestselling author of the Penryn & the End of Days trilogy, ANGELFALL, WORLD AFTER, and END OF DAYS. Her books have been translated into over twenty languages, and her short films have played at major festivals. She used to be a lawyer but loves being a writer because it allows her imagination to bust out and go feral.
Sign up to hear about her next book at www.susanee.com or follow her on Twitter @Susan_Ee.
(PPS Let me just say right now that many of these books I have read in the past. However, I do go back and read them again so that my memory is pretty fresh. However, after my summer rush is over, I will get to reading the new books!)